Generative Adversarial Networks (GAN) is a framework for estimating generative models via an adversarial process by training two models simultaneously. A generative model G that captures the data distribution, and a discriminative model D that estimates the probability that a sample came from the training data rather than G. It was proposed and presented in Advances in Neural Information Processing Systems (NIPS) 2014.
Introduction
Taxonomy of Machine Learning

Supervised learning: The discriminative model learns how to classify input to its class.
Unsupervised learning: The generative model learns the distribution of training data.

More challenging than supervised learning because there is no label or curriculum which leads self learning
NN solutions: Boltzmann machine, Auto-encoder, Variation Inference, GAN

The goal of the generative model is to find a that approximates well.
Generative Adversarial Nets (GAN)
Intuition of GAN
The discriminator D should classify a real image as real ( close to 1) and a fake image as fake ( close to 0).
The generator G should create an image that is indistinguishable from real to deceive the discriminator ( close to 1).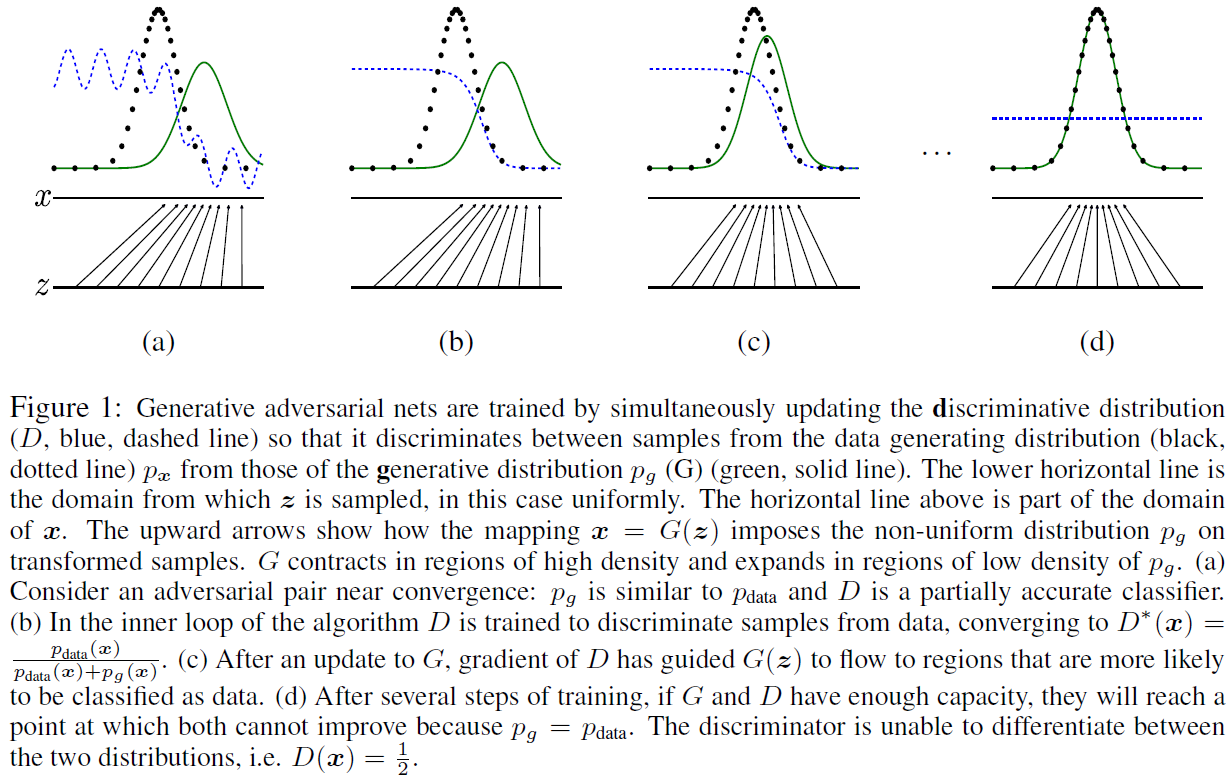 Objective Function
Objective function of GAN is minimax game of two-player G and D.
For the discriminator D should maximize

Sample from real data distribution for
Sample latent code from Gaussian distribution for
is maximum when and

For the generator G should minimize

G is independent of
is minimum when

Saturating problem

In practice, early in learning, when G is poor, D can reject samples with high confidence because they are clearly different from the training data.
In this case, the gradient is relatively small at which makes saturates.
Rather than training G to minimize , we can train G to maximize .
This objective function results in the same fixed point of the dynamics of G and D but provides much stronger gradients early in learning.

Why does GANs work?

Because it actually minimizes the distance between the real data distribution and the model distribution .

Jensen-Shannon divergence (JSD) is a method of measuring the similarity between two probability distributions based on the Kullback-Leibler divergence (KL).

Variants of GAN
Deep Convolutional GAN (DCGAN), 2015
DCGAN used convolution for discriminator and deconvolution for generator.

It is stable to train in most settings compared to GANs.
DCGAN used the trained discriminators for image classification tasks, showing competitive performance with other unsupervised algorithms.
Specific filters of DCGAN have learned to draw specific objects.
The generators have interesting vector arithmetic properties allowing for easy manipulation of many semantic qualities of generated samples.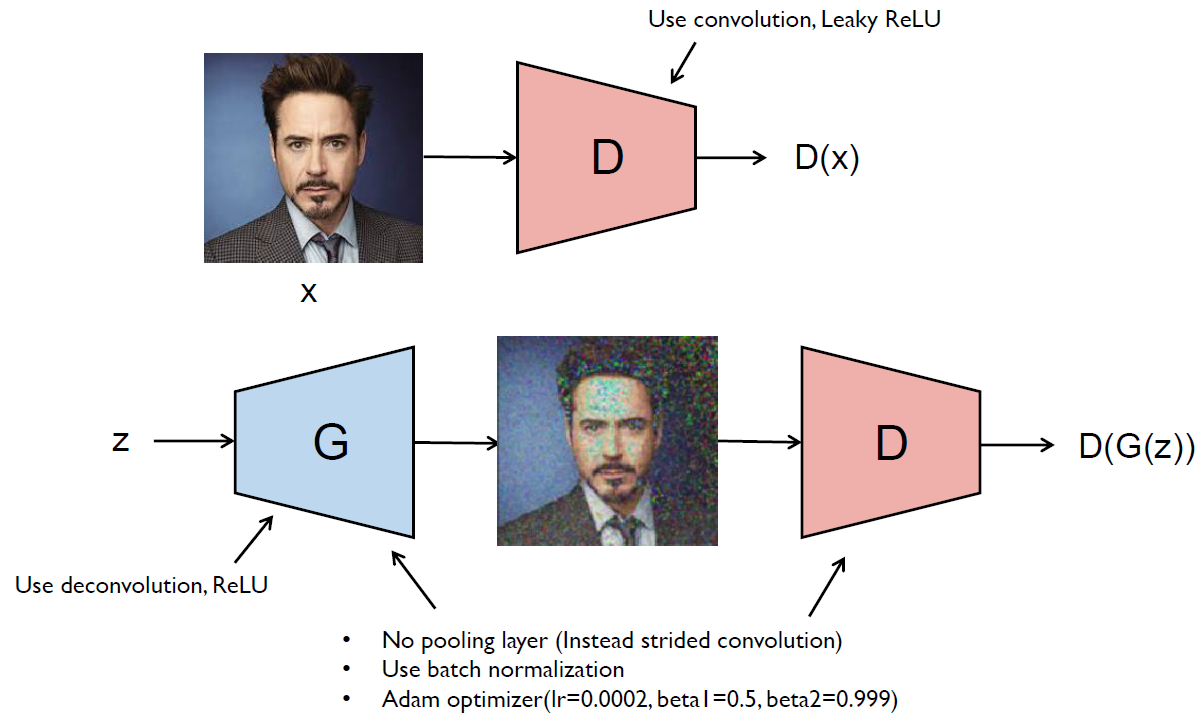 Latent vector arithmetic

They showed consistent and stable generations that semantically obeyed the linear arithmetic including object manipulation and face pose.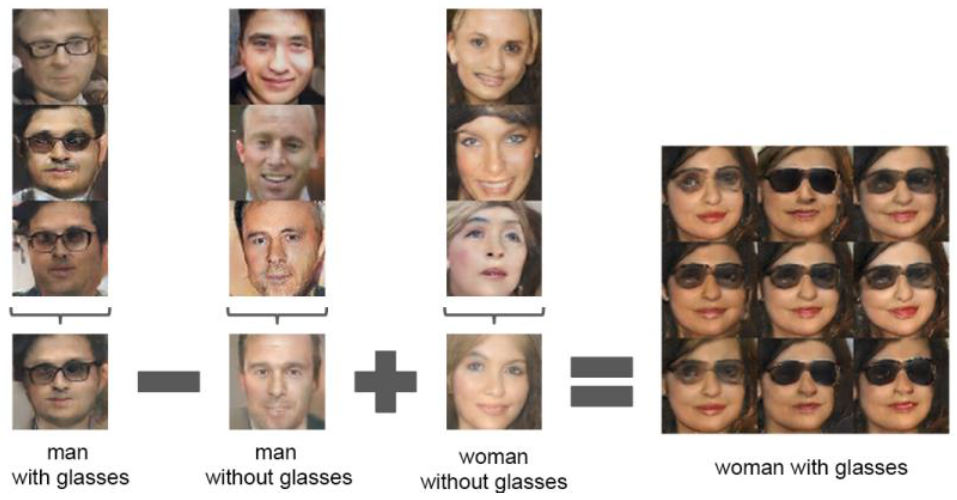 Least Squares GAN (LSGAN), 2016
LSGAN adopt the least squares loss function for the discriminator instead of cross entropy loss function of GAN.

Since, cross entropy loss function may lead to the vanishing gradient problem.
LSGANs are able to generate higher quality images than regular GANs.
LSGANs performs more stable during the learning process.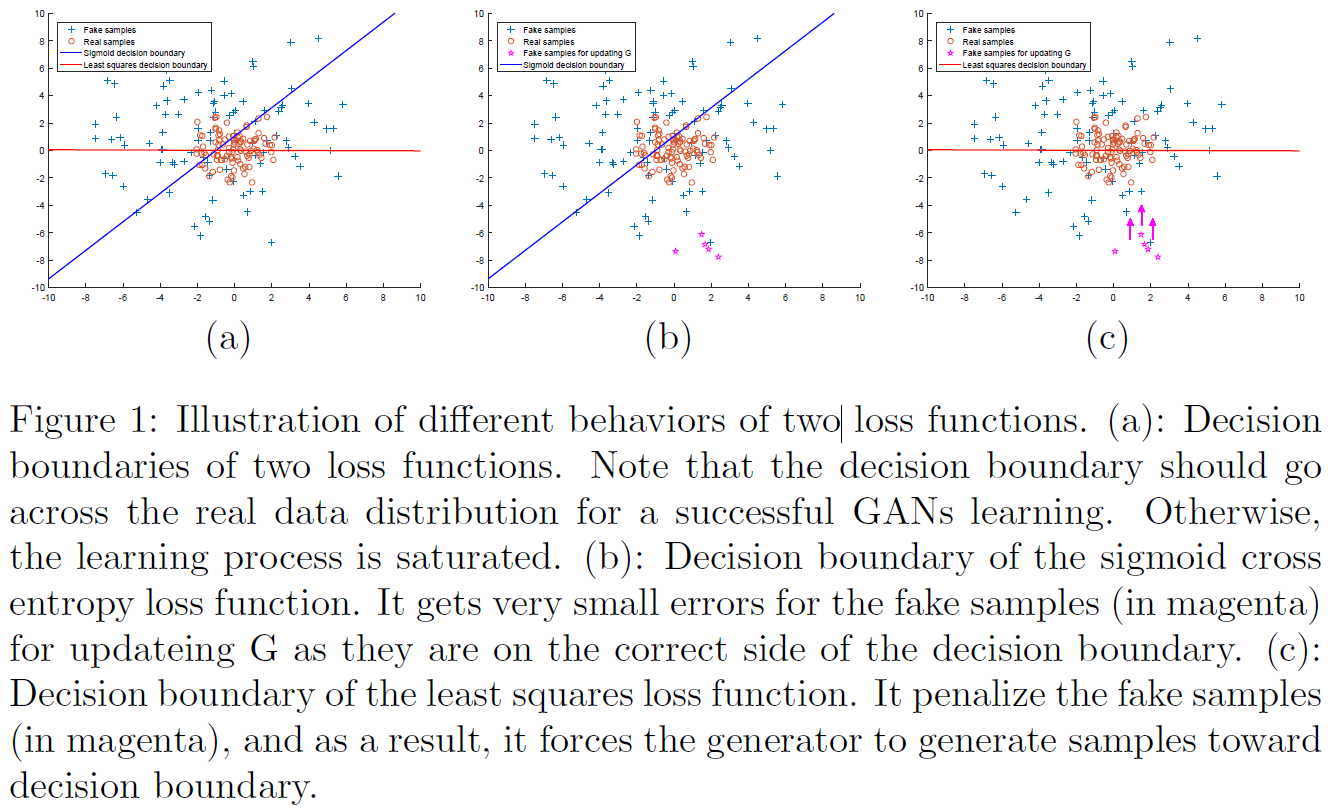 Semi-Supervised GAN (SGAN), 2016
SGAN extend GANs that allows them to learn a generative model and a classifier simultaneously.

SGAN improves classification performance on restricted data sets over a baseline classifier with no generative component.
SGAN can significantly improve the quality of the generated samples and reduce training times for the generator.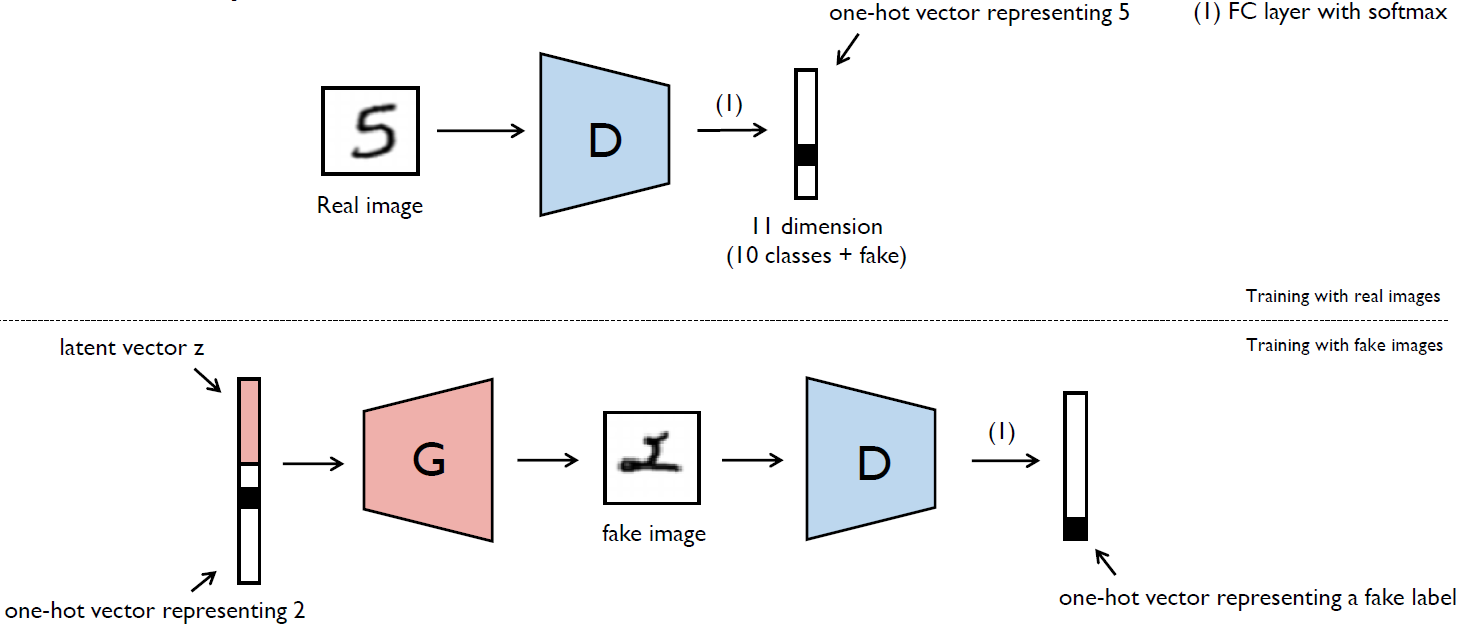 Auxiliary Classifier GAN (ACGAN), 2016
ACGAN is added more structure to the GAN latent space along with a specialized cost function results in higher quality samples.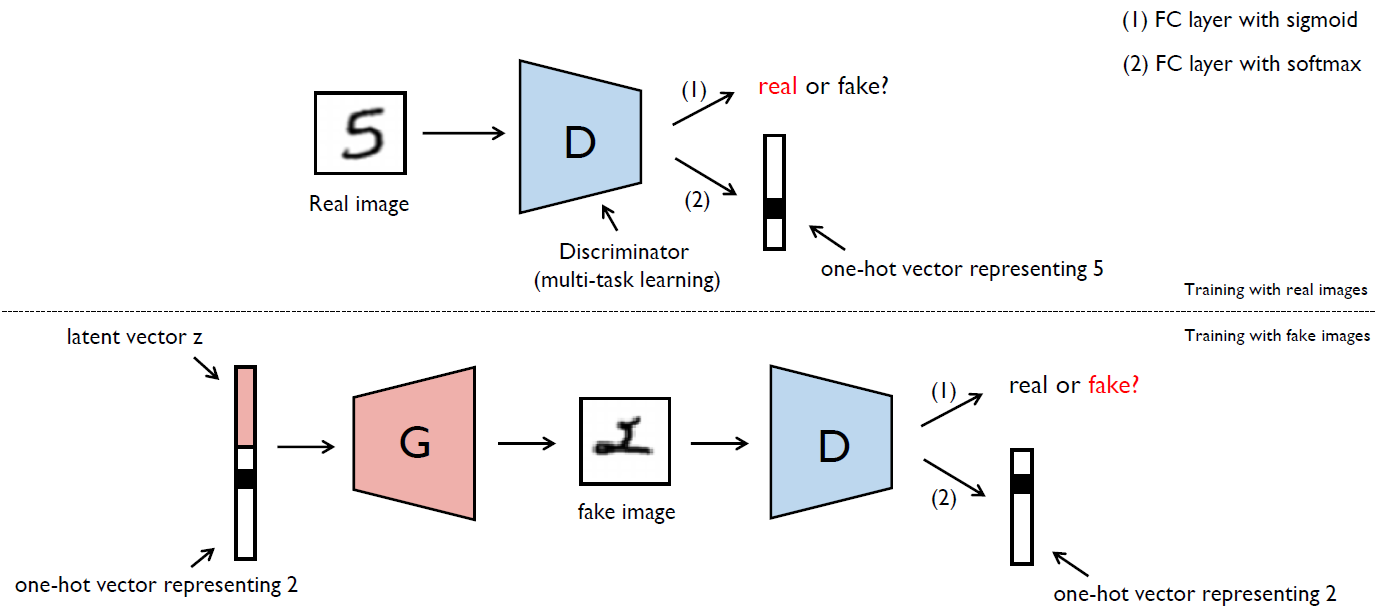 Extensions of GAN
CycleGAN: Unpaired Image-to-Image Translation
CycleGAN presents a GAN model that transfer an image from a source domain A to a target domain B in the absence of paired examples.

The generator should generates a horse from the zebra to deceive the discriminator .
generates a reconstructed image of domain A which makes the shape to be maintained when generates a horse image from the zebra.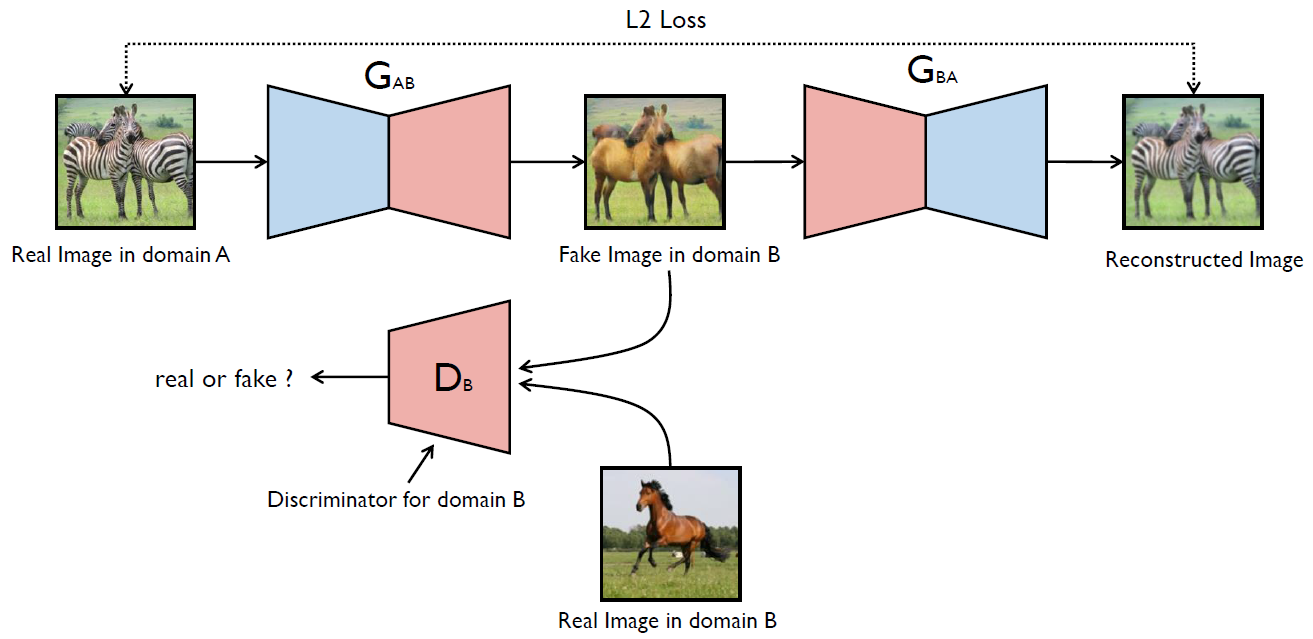 Result
StackGAN: Text to Photo-realistic Image Synthesis
StackGAN generate photo-realistic images conditioned on text descriptions.

Result
Latest work
Visual Attribute Transfer

Jing Liao et al. Visual Attribute Transfer through Deep Image Analogy, 2017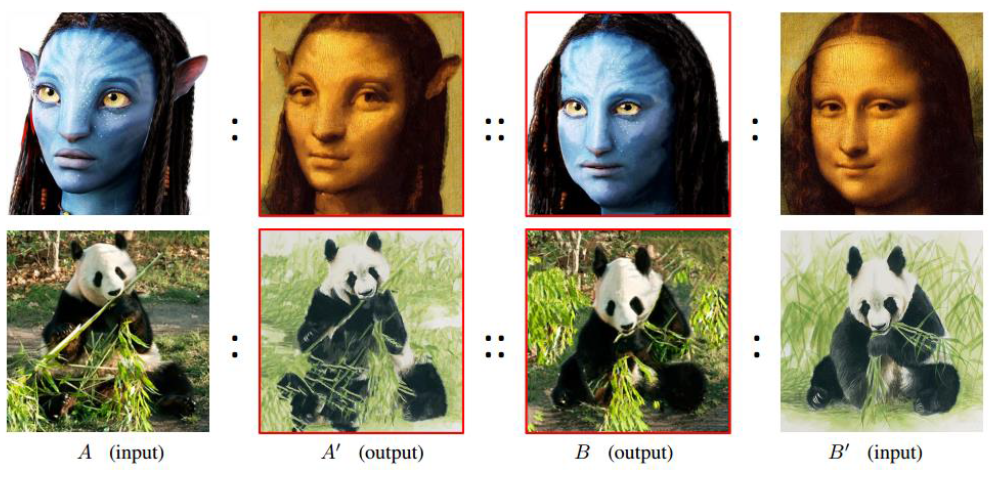 User-Interactive Image Colorization

Richard Zhang et al. Real-Time User-Guided Image Colorization with Learned Deep Prioirs, 2017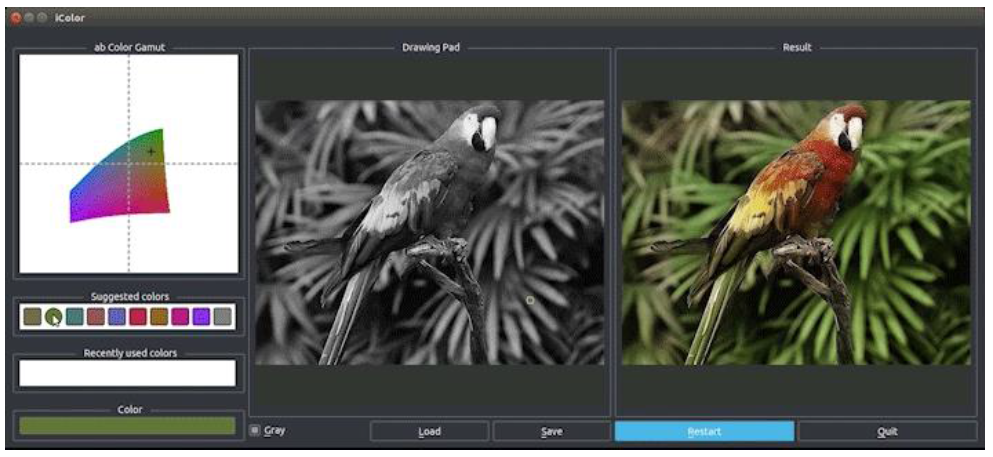 References